***We're sorry to inform you that VBS will not be running this summer but we do hope to run it again in 2018***
You can still register for the VBS program "SONQUEST" being offered by the Canadian Reformed Church at Smithville. (see below)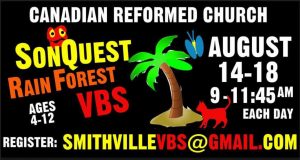 SONQUEST
Date: August 14-18
Time: 9:00am – 11:45am each day
Register: smithvillevbs@gmail.com
Any further questions can also be directed to Grassie Home Mission
Contact: Maria Bartels. Phone: 905-945-4580
Children attending our VBS program who have reached age 9 are invited to attend the Boys' and Girls' clubs as well.
Boys' and Girls' Club is an organized program that involves young boys and girls in interactive learning focused in Bible knowledge, with the objective of helping prepare them for service in God's Kingdom. Other life skills are also taught as part of the program. Friends and neighbours are encouraged to attend.
Recently our Youth hosted the boys and girls for a night of bowling. Check out the video below.